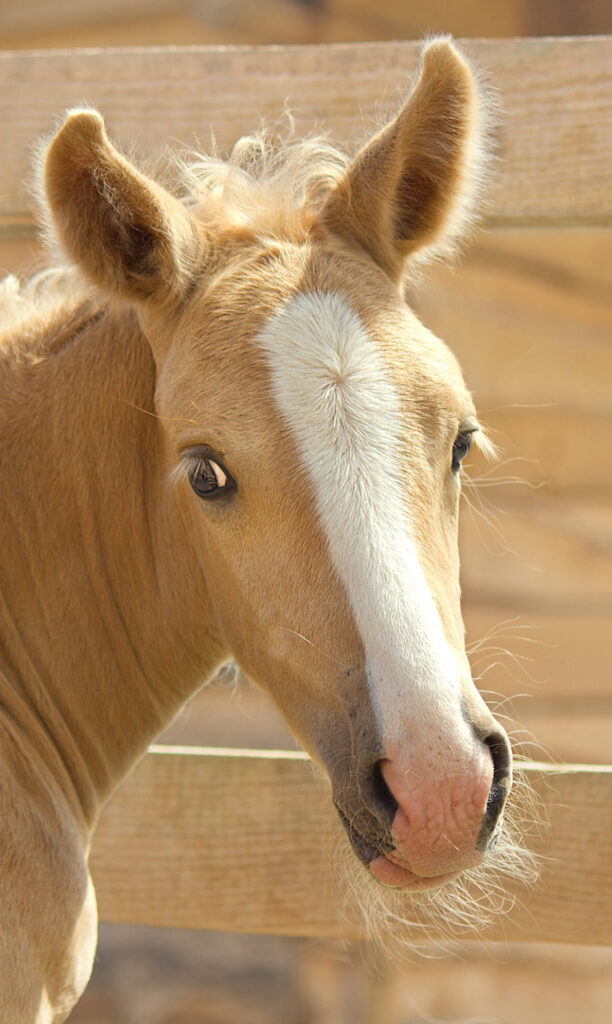 Our third inductee has achieved many successes in their lifetime, from breeder, exhibitor, and service to NYPEA, and PHBA. This person served two terms as President of NYPEA in the early 80s and dedicated time and resources toward the fulfillment of Association goals.
I'll give you a hint – it's a man. He was the NYPEA youth advisor in the mid and late 70s when they organized and ran a large drill team. He became an approved PHBA judge in 1982. He has held judges' cards in PHBA, PTHA (Pinto), APHA (Paint), POA, open, and 4-H. He has served as President of the NYS Horse Breeders Assoc. He was the Director of Equine Studies at Cazenovia College and taught classes in Equine Science and Breaking and Training. He has owned and managed a boarding stable for over 40 years and is still just as active in it today. He has bred, raised, and shown QHs and Palominos his entire life. Some of them include:
Tonys Dusty, 1955 G, 204-lifetime pts., PHBA Champion, 3-gaited show horse?
Roman Ralph, 1966 S, 142-lifetime pts., PHBA champion, sire of:
Roman Kay Cay, 1973 G, PHBA Champion, shown in youth by Christine Putnam, shown in amateur by Cathy Cunningham and Kathy Bowen
Pinch Of Sage, 1977 M, owned by Darlene LaFave
Miss Golden Frost, 1980 M, owned by Maureen Buckland
Wimpys Distance Image, 1984 G, Amateur Champion in 1996 with Shannon Whitney, and shown in youth by Megan Whitney
Miss Lady 2, 1967 M, PHBA Champion and Youth Champion with Christine Putnam
Heart Bar Kandy, dam of Roman Kandy Bar, 1974 S · Red Hornet McCue
Proud Enough, 1972 S, 266-lifetime points, ROMs in W Pl, trail, HUS, road hack, sire of:
Too Proud To Skip, 1982 G, Amateur Champion with Kathy Johnston in 1990, and Colleen Donahue in 1992, Danny Prindle also showed this horse as a youth
Ima Proud Dexter, 1985 G, Amateur Champion with Thelka Mills
Skips Supreme Lad, 1981 S, 147-lifetime pts., ROM in halter and color, sire of:
Supreme Sundance, 1988 G, Amateur Champion with Betsy Walson in 1992
Bounceys Date, 1986 G, Youth Championship with Scott Smith in 1999, Amateur championships with Chris Mann in 1990 and Joan Anderson in 1996
Docs Jazzercise, 1983 G, Amateur Champion with Chris Mann in 1992
Ima Pressive Skip
Skippen Starfire, 1997 G, Youth Champion with Megan Dauller in 2002
Count On Obvious, 1999 G
Sandys Array Of Gold, 2002 G, superior halter, youth ROM with Stephanie Mann
Earnin Cash, shown by Chris and Stephanie Mann
Any ideas yet? He was married to Bea in 1950, and will have been married for 56 years on Nov. 4. He has affected so many lives in the horse world. More than we will know. But we do know his daughter, Chris, and granddaughter Stephanie, have caught the horse bug from their dad and grandfather. Chris started her horse career as a youth and achieved a youth championship on Miss Lady 2, and continued into the amateur division with numerous champions. Now, granddaughter Stephanie is now showing in the youth division. This person has clearly influenced new membership in both NYPEA and PHBA. The horse world and NYPEA, are so much better for having this man in our lives. Allow me to introduce our third inductee to the NYPEA Hall of Fame, Norm Putnam. Congratulations, Norm.