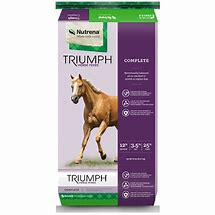 Nutrena® products have been leading winners for more than three generations with new and innovative nutrition products that continue to set the standard in performance. The Nutrena® brand features feed for many species, including horses, beef & dairy cattle, pork, and show & companion animals. The Nutrena® brand's primary goal is to help you achieve optimum nutrition, exceptional health, and the world-class performance you deserve. The Nutrena® brand is manufactured by Cargill Animal Nutrition, a business unit of Cargill, Incorporated.
Cargill is an international provider of food, agricultural, and risk management products and services. With 142,000 employees in 61 countries, the company is committed to using its knowledge and experience to collaborate with customers to help them succeed.
Nutrena has been a corporate sponsor of the NYPEA Futurities for 18 years. NYPEA's partnership with Nutrena started back in 1990 and continues to this day. This long-time relationship and support are greatly appreciated. It is with this appreciation we award Nutrena the 2008 NYPEA Hall of Fame Sponsorship Award.