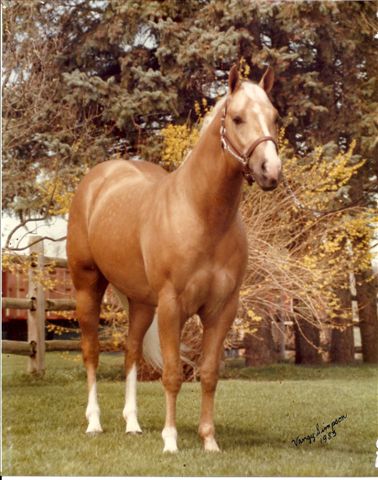 When this horse was born the impact he created on the palomino world, in NYPEA and PHBA, was not even a thought. When their sorrel mare, with a flaxen main and tail, Miss Jet Away, was bred to a dun stallion, Dun Played, a palomino stud colt was not what they had anticipated or expected. Nonetheless, Jets Played First was born in 1981 to the Smith family and was poised to impact the palomino horse world in the northeast.
His excellence as a show horse himself, Bubbie accumulated 726 overall PHBA lifetime points before retiring to breeding status. Bubbie earned his Championship Award in 1984 and his Supreme Champion Award in 1988. Bubbie campaigned in 1988 to achieve 2nd in the nation in Hunter Under Saddle, 6th in the nation in Sr. Western Pleasure, and 8th in the nation in Halter stallions. His career as a show horse also earned him many year-end awards in NYPEA. In 1987 Bubbie was Reserve High Point All Around Horse and in '88 High Point All Around Horse.
20 years of breeding, resulted in 75 registered foals. 28 were palomino. 23 of them are registered palominos that tabulated over 1,000 halter points and 5,000 performance points. 8 Buckskin/Dun foals resulted in the breedings, with 1 International Buckskin halter point earner.
Out of the 23 registered palominos he has produced, there are some names you may recognize.
Savannah Cookie Reed, a 1985 mare, NYPEA Hall Of Fame Inductee, owned by Suzanne Sprague. Cookie and Suzanne achieved their Amateur Championship in 1992 and their Amateur Supreme Champion Award in 1993. Cookie totaled 1,619 amateur points with 5 amateur superior events and 540 open points.
Crystals Jet Image, a 1990 gelding, owned by Betsy Walson. Bud received his open Championship in 1995, and had 346-lifetime points, with a 1st in the nation in Road Hack in 1994. Bud and Betsy earned their Amateur Championship in 1996, and tallied a total of 632 amateur points, with a superior and 6 ROMs, and a reserve high point in the nation in amateur halter geldings in 1992.
Im A True Blonde, a 1991 mare, owned by Marleen Cowie. Blonde was PHBA High Point Mare in the nation and Reserve High Point Performance Horse in 1995. To achieve this mark she was 1st in Jr. Hunter Under Saddle, 1st Jr. Road Hack, 1st in Jr. Trail, and 2nd in Jr. Western Pleasure. She also achieved her Performance Championship in 1995. We should have known she was destined for something special when she won the South Carolina Weanling Filly Futurity, as well as the NYPEA Weanling Futurity. Blonde totaled 1,149-lifetime points, with 4 superiors. The greatest mare I ever rode!
Call Me Jets Best, a 1992 gelding, owned by Vicky Cole. Jet earned his open Championship Award in 1998. He has 784-lifetime points, with 2 superiors, and 7 ROMs, and was reserved high point in the nation in western driving in 2001 and 2003.
Jets Special Te Play, a 2003 gelding, owned by Renee Martin. JD has been shown in 10 open classes, with a lifetime total points of 215, and 13 amateur classes, totaling 346 points, with 5 ROMs and 1 superior. JD went to the PHBA World Championship show in 2009 and was 1st World Champion Amateur Hunter Hack, 3rd in Amateur Western Parade, and 8th in Amateur Road Hack. In 2008 JD was Reserve High Point Barrel Racing Horse. And he's still showing at the young age of 7.
All of these owners are current NYPEA members and are still showing. All though some have moved on to other horses, they still look for the good mind, kind eye, and smart characteristics typical of the Jets Played first offspring.
Jets Played First was 28 years old when laid to rest. He will be remembered for his show presence and results in the ring. But also as a stallion that reproduced his talent to his offspring. Now it's up to his kids and his grandkids, which carry his blood, to continue in their father's footsteps. The tradition of excellence Jets Played First established will continue on.